---
In this issue:
Greetings!

Feature: "Selfish"

Quote of the Month

Happenings...
---
Greetings!
Howdy,
Not to put too much attention on the weather, but it's been a record rain year in the Northcountry. We passed the previous record, set sometime during the Civil War years, back in June and have been going great-guns ever since. The good news is that I haven't had to water the gardens at all. The bad news is that a number of my plants don't seem to like this level of hydration and have flopped, flooped, or otherwise wilted and withered in vegetable variations of a drunken stupor.
On the vermin front - just in case you were wondering - the chipmunks appear to be accepting bus-groups of their little friends, the mosquitos are livin' large and I'm currently fighting with a local bunny - wascally wabbit - over the rights to my cosmos.
I haven't quite figured out the essence of this year's garden lesson, but I trust it will come in time...
Speaking of time, the time has come for this month's feature, "Selfish." As usual, this story ain't about what it sounds like it's about, so you're just going to have to read on. I suppose that's why you receive DadsNews anyway, eh?
I'm pleased to let you know that It's also time to announce a f.r.e.e. teleclass that'll be coming up in September, which isn't so far away... "Love, Anger, Joy and Fatherhood" pulls together elements of emotional intelligence, masculine energy, creativity and polarity as integral parts of the experience of being a Dad in our modern world. Have a look in "Happenings" for more morsels...
Thanks for reading, and have a great month!
Yours,
Ken
PS: As always, I'm grateful to you for spreading the DadsNews to friends and fathers the world over... Thanks!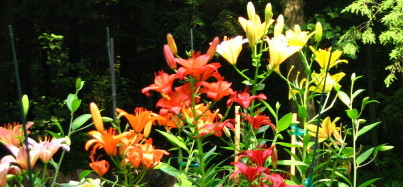 ---
Selfish
Selfishness has gotten the short end of the stick...
All the talk about giving being superior to receiving is beginning to rub me the wrong way. Don't get me wrong, giving is a wonderful thing. Like so many wonderful things, when it's taken to an extreme - held up without the opposite polarity of receiving - some funky energetic stuff starts to happen. Funky to the point people begin to turn the furniture over to see where the dead fish is hiding...
I love my parents, which has nothing to do with dead fish.
Part of the reason I love them is that... well, they're simply my parents... which, to me, makes them rather lovable. They are and have always been incredibly generous people. They have the giving side of the equation down like nobody's business.
Eat your hearts out, Warren and Bill. Al and Judy may not be on the front page, but they know how to work their mojo where it counts...
Another thing I love about my folks is that they know how to be selfish. They know what they want and they seem to have the receiving thing down pretty well. For example, to this very day, they have the audacity to travel all over the place without even asking permission. and to have fun while they're away. (Such nerve...) They go to concerts and plays and other performances. (Can you believe it..?) My Dad plays tennis once a week just about all year round, and skis whenever he can during the winter.
At times each of the four of us kiddies felt we were being yanked this place or that against our youthful wishes, mostly to satisfy the interests of our parents. What's clear in this moment is that all the dragging about gave us gifts that, to this day, resonate pretty strongly for each of us in different ways.
Let me give you a few examples...
As kids, we were hauled around to a mess of museums and historical sites. From the Newark Museum in New Jersey, to a beautiful old fort in Nova Scotia, to the American Museum of Natural History in NYC, to Hearst Castle on the coast of California... As a family we, quite literally, traveled from one coast to the other to look at old stuff. On any given adventure some of what we saw as fascinating or at bare minimum, engaging. Some of what we were there to look at was, in my eyes at least, just about as exciting as watching paint dry on a humid day. I remember my feet hurting and feeling that one more moment spent in quiet rooms where you weren't allowed to touch anything was going to drive me crazy.
Due to my folks' selfish interest in the performing arts, we were often unceremoniously tossed into the car and hauled through a tube under the Hudson River into Manhattan. There we were forced to sit in dark rooms where bright lights shined mercilessly in the eyes of actors. They took us to countless Broadway and a few Off-Broadway plays and musicals, not to mention a mess o' ballet and other dance performances and the occasional classical concert. We sat through a number of more unusual musical events such as PDQ Bach and the Canadian Brass, to name a few.
I didn't love them all, but I liked some bits of just about every one...
Aside from the music, the plays and the museums, my folks insisted upon traveling for travel's sake. Trips to Little Deer Isle with side trips to Isle Au Haut in Penobscot Bay, Maine, many annual vacations on Long Beach Island, New Jersey, places like Montreal, Nova Scotia, California, Florida. On some of the trips we, along with Al and Judy, learned to sail. (Part of our collective sailing education found us - and the boat - on the rocks in Maine, but that's a story for another time...)
We were also pulled into restaurants and exposed to foods from all over the planet...
Of course I'm half joking about having all those experiences forced on me and my siblings. Seen through the eyes of a child, some of it did seem like drudgery - or worse. The less-than-enthusiastic bits had all but evaporated by the time I was in my mid to late teens. By then, based on what I had seen in Japanese hibachi joints, I was busily teaching myself to cook what seemed like new and unusual foods at home. Once college days hit, my friends and I would make pilgrimages to New York to spend entire days visiting art museums. Even traveled to Europe after graduation, eating, looking and "arting" across the continent. Al's yen for skiing planted a seed of passion in my brother and I that drew us west, where he still lives, and to this day finds my son and I talking skiing all summer and living it in the winter months.
So where does selfishness play in to all this?
I haven't checked, yet I can't imagine that my folks martyred themselves for the sake of creating experiences for my brother, my sisters and me. They took us to places they loved, to restaurants and events they enjoyed or were, at very least, curious about. They had interests that called to them, and we were included in their plans...
I was having a conversation with a client a while back. After many years of putting others and their interests first, he came to the realization that that strategy wasn't working so well. In fact, it hadn't ever really been a winning formula for him, and served more as an incubator for general yuckiness and regret than anything else. Over the course of a number of months he began to put himself first - not at the expense of his family and friends - just with the clarity of intent that he really was at the center of his world. He began to take better care of himself, began to do more of what he wanted to do and began to plan his family's time around some of his interests. He began to be a little bit more selfish with his time and energy.
Funny stuff began to happen. For instance, his office became his personal work-space again. He began to write daily again. He started brainstorming and designing new projects that broadened the scope of his business and lit up his creative and generative energies in ways that fired him up rather than wore him out. He began to connect with his spouse and kids in a deeper way, and his overall satisfaction level jumped several notches. He allowed himself to step from the giving side of the equation to the grateful receiving side.
My client, freshly connected to dreams that he had thought of as "selfish" up to that point, started having more fun!
I can imagine a day when his kids will tell their kids about how selfish their father was, and all that he gave them as a result of following his selfish passions.
Yup. Selfish in many of the same ways my folks continue to be selfish. Selfish in ways that I admire to this day. Selfish in ways that, in retrospect, had everything to do with them, yet weren't only about them.
I hope my son looks back on my selfishness - on my devotion to doing good work and my travel and my stories, to say nothing of my passion for flowers, time with my Danielle, good food and skiing and so many other things - and is inspired to follow his interests, passions and dreams...
So go ahead and be a bit selfish... What are you waiting for..?
---
Quote of the Month
"I am a greedy, selfish bastard. I want the fact that I existed to mean something."
Harry Chapin
---
Happenings...
---
F.r.e.e. Teleclass:

"Love, Anger, Joy and Fatherhood"
The path of conscious Fatherhood gets bumpy sometimes... And it's still a magnificent path that yields new wisdom and other rewards beyond imagination. "Love, Anger, Joy and Fatherhood" is an exploration for, by and about Fathers.
Coming in early September... Visit the Cirrus website for more information....
---
October 2006 :: The Power of Polarity

Expanding Our Capacity as Humans by Exploring the Edges of Masculine and Feminine Power
Here's what past "Power of Polarity" participants have to say:

"This was a life transforming/solidifying weekend for me. I changed at a cellular level. I'm not the same person I was when I arrived... Thank you all and keep it coming!"

"I'm able to finally feel fully the energy that I have known was always there. Anything is possible! You guys rock! The passion, love and commitment just oozes!"

"The workshop was life enhancing for me. I broke through to something I have been trying to access for years."
Join us for a 3-day experiential journey to…
o Gain a deeper awareness of masculine and feminine energies within yourself and others.
o Learn to discern between masculine and feminine energies that serve you… or hold you back.
o Experience your own personal blend of aligned masculine and feminine energies, creating a third energy – a new spark of life force and creativity.
o Explore and experience archetypes and "shadows," and learn to consciously harness their powerful gifts.
o Discover the composition of your own unique Masculine/Feminine "masks."
o Learn how to express, work and play with Third Way energies.
o Take home a conceptual framework, language, exercises and tools to apply this work in tangible ways—in your view of yourself, in your relationships, and at work.
o Be a vital part of ground breaking work and a growing community… be a leader in the much-needed evolution of these energies in our world.
o Discover how to work with these powerful energies to invite more joy and creativity into your work, your play, and your relationships!
Logistics:
October 13-15, 2006. For more info, visit the Cirrus website...
---
More cool stuff is available at the Cirrus Leadership website!
Next issue of DadsNews: Thursday, August 10, 2006.
Until then, stay cool and do stuff that makes you happy!
---
DadsNews ©2006, Kenneth Mossman, MFA, CPCC, PCC, Cirrus Leadership®
Use and distribution permitted and encouraged, providing attribution is... well, attributed!